Heat stress is expensive. It can have a serious impact on cattle breeding efficiency, milk production, and feed intake. Keeping your cows safe and productive costs you time, effort, and money. Exactly how much does heat stress cost you in dollars and cents? Consider that dairy cattle operations can expect to lose about 10% to 35% of an animal's current milk production during heat intense periods. Applying that reduced production rate to a herd of 500 cows can result in losses of $800-$2800 per day.*
Get Your Free Excessive Heat Stress Action Planning Guide.
You already know you can't prevent hot weather from happening. However, by taking a proactive approach, you can better manage the impact and minimize the damage to your bottom line. Standard heat stress management practices include providing shade, enhancing ventilation by adding fans or passive ventilation, enhancing evaporative cooling with sprinklers, providing cooled water, and modifying feed to increase dry matter intake and reduce waste. Each of these practices ALSO cost money, so your goal is to implement management practices every time they are needed, but ONLY when they are needed. Implementing a measurement-based heat stress management plan helps you to understand when and where to take action in order to maximize herd performance and profits.
Why the Local Weather Forecast is Not Good Enough
Studies have shown that cattle areas and individual pens pose "significant microclimatic variations" compared to the general environment of the farm. This is why even the data from a weather station installed on your property, while helpful, may not reflect the real conditions of your barn, pasture, and individual pens. Weather channel forecasts and reports from local news websites too often provide an incomplete picture for producers who must make time- and budget-sensitive decisions based on the current, onsite conditions. To anticipate when detrimental heat stress conditions will occur, it's best to actively monitor environmental conditions right where cattle are contained.
Cattle Specific Heat Stress Measurements and Models
Once cattle display clear signs of heat stress, losses in productivity and health have already occurred. Left unaddressed, heat stress can progress to the death of the animal, sometimes with little warning. Three measurement schemes have been developed and implemented within the industry to provide cattle-specific guidance for when heat stress management plans need to be implemented: Temperature-Humidity Index ("THI"), Heat Load Index ("HLI") and Accumulated Heat Load Units ("AHLU"). AHLU is the most complete guidance system because it tracks cattle body heat accumulation over multi-day/night heat events. Cattle begin to accumulate heat over certain HLI limits, and can only shed that heat if HLI drops below certain limits. Spot measurements alone cannot tell you current heat load accumulation caused when hot days are followed by warm, humid nights.
An Easier Way to Measure
Installing multiple weather station is impractical and expensive. While getting the specific microclimate conditions at each location is critical for guidance in preventing heat stress losses, the measurement tools need to be affordable to purchase, simple to set up and effective to use. Kestrel's line of Agriculture meters and loggers are portable, rugged devices that can quickly and easily perform regular spot checks throughout an operation, capture readings in memory, or be mounted near any group of cattle to become cattle-specific heat stress weather stations. Their affordability and portability even makes it practical to monitor specific groups of cows or calves who may be more vulnerable to heat stress.

The Kestrel 5400AG Cattle Heat Stress Tracker includes a black globe sensor for tracking the impact of solar loading and radiant heat – a key component of HLI and AHLU and one not available in any traditional weather station. Simple menu picks customize the AHLU model for breed and age of cattle, pen conditions and mitigation strategies. Using the included portable vane mount, the Kestrel 5400AG is easily mounted in place to track heat accumulation for days, weeks or months. The 5400AG gives you instant access to THI, HLI and AHLU based on the real environmental conditions experienced by your herd.
The Kestrel 5000AG Livestock Environmental Meter is ideal for livestock professionals who need a multi-purpose environmental monitor without HLI and AHLU. With built-in THI readout as well as the other basic weather and environmental readings and logging, plus optional Kestrel LiNK connectivity and Kestrel Vane Mount, this meter is the perfect companion for any professional responsible for the care and health of livestock.
The Kestrel 5500AG Agriculture Weather Meter is a complete tool designed to meet the needs of agriculture production, both livestock and crop. This lightweight, handheld, multi-function meter can be used inside and out for barn/facility environmental assessments, commodity storage, and field and spraying monitoring. Built-in Delta-T calculation provides guidance for adjusting spray operations during high-evaporation conditions and the wind speed and direction logging makes for easy record-keeping for spray monitoring compliance. With optional Kestrel LiNK® wireless data transfer, current and logged data can also be sent to your mobile device or laptop for saving and emailing.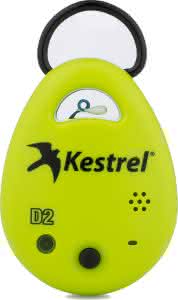 The Kestrel DROP D2AG Livestock Heat Stress Monitor is a small data logger that tracks temperature, humidity and THI in any indoor or outdoor location. Extremely low cost and easily read on your mobile phone from up to 100' away, you can afford to place many Kestrel DROPs around your facility.
The 5400AG Cattle Heat Stress Tracker, 5000AG Livestock Environmental Meter or Drop D2AG Livestock Heat Stress Monitor all can be connected wirelessly to a wifi or cellular equipped tablet to provide timely alerts sent to your mobile phone to indicate when it is time to implement heat stress management plans (100'/30M connection range).
The dairy farmer knows the detrimental and costly impact of heat stress on his cows in his facilities. With the summer season bringing the threat of heat stress, take advantage of the available tools that provide the vital information required to make informed, data-backed decisions to better manage the overall health, productivity, and profit of site operations.
Get Your Free Excessive Heat Stress Action Planning Guide.
*Source: Purina Animal Nutrition Center – Dairy Research Facility