AG Livestock DROP Environmental Monitoring Pack
Livestock heat stress can cause serious health issues in your valuable livestock as well as reduced performance and productivity. Stay informed of heat conditions in the barn or during transport with the Kestrel D2AG Livestock Heat Stress Monitor. Multiple built-in environmental measurements mean your DROP D2AG can also be used for many other agricultural applications including hay and feed storage areas and greenhouses.
AG Livestock DROP Environmental Monitoring Pack Overview
Summary of the AG Livestock DROP Environmental Monitoring Pack
This customer-requested bundle of three D2AG DROPs makes monitoring multiple sites and locations for livestock facilities easy AND affordable! Simply leave the DROP anywhere you need environmental monitoring – then view and track micro-climate conditions instantly on your mobile device with the free Kestrel LiNK app. With access to real time conditions and custom alerts to notify you of unsafe conditions, you can manage issues before they become costly problems to keep your livestock healthy and your operation profitable.
Livestock transporters can place these units in multiple trucks for ongoing condition monitoring. Dairies can monitor multiple locations such as resting area, holding area, and maternity pen for heat stress abatement. Livestock handlers can monitor vaccine and medication storage temperatures critical to their efficacy and safety.
All livestock professionals can benefit from knowledge of micro-climate data at their site:
Identify areas with sub-optimal conditions
Compare managed livestock environmental conditions with outdoor environment
Monitor youngstock housing for both hot and cold thermal challenges
Quantify and measure livestock level conditions prior to making purchasing/remodeling decisions, and more.
About the Kestrel Drop D2AG Livestock Heat Stress Monitor
The Kestrel Drop D2AG Livestock Heat Stress Monitor is a very affordable rugged heat stress monitor that can be used in the barn, during transport, or anywhere livestock are housed. Simply hang in place wherever insight into conditions is needed, and access current conditions and historical readings with your iOS or Android device. Designed by Kestrel with input from some of the world's most respected experts in livestock heat stress, the Kestrel DROP D2AG Livestock Heat Stress Monitor is designed to help you MEASURE and MANAGE your animals' heat stress, ensuring you MAXIMIZE your bottom line.
Direct readout of Temperature Humidity Index (THI) – a dairy cattle specific measurement that provides guidance for when heat stress will start to reduce milk production.
Also measures heat stress index, temperature, humidity and dew point for application to many types of livestock and agricultural applications.
The EASIEST and most accurate way to monitor and track environmental measurements critical to agriculture in almost any farm, home or transport location – wet or dry, indoors or out.
Easily hangs inside a barn, transport vehicle or wherever livestock are housed.
Horse shippers - monitor trailer temperatures and heat index from inside your truck! Know when to find shade or take a break to water your horses.
View data wirelessly via Bluetooth® low energy on your iOS phone or tablet with the free Kestrel LiNK app when within wireless range (up to 100' or more line of sight.)
Store thousands of data points and get months of logging on a single coin-cell battery - customize logging rate, connections and alerts.
Rugged (drop tested to MIL-STD-810G standards), dust and waterproof (sealed to IP67 standards).
5-year warranty.
Visit the Cattle Heat Stress Minisite for a more detailed look at this breakthrough tool.

---
Use a DROP Anywhere livestock are housed- Small, Accurate, Rugged and Waterproof
Each DROP measures just 1 x 1.8 x 2.4 inches (24 x 46 mm x 60 mm) and weighs just 1.2 ounces (34 grams). DROP loggers meet military and international standards for water, dust and shock resistance (IP-67 and MIL-STD-810G) and are conveniently equipped with a sturdy d-ring for hanging wherever needed.
DROPs Are Powered by the Kestrel LiNK App
DOWNLOAD KESTREL LiNK FOR ANDROID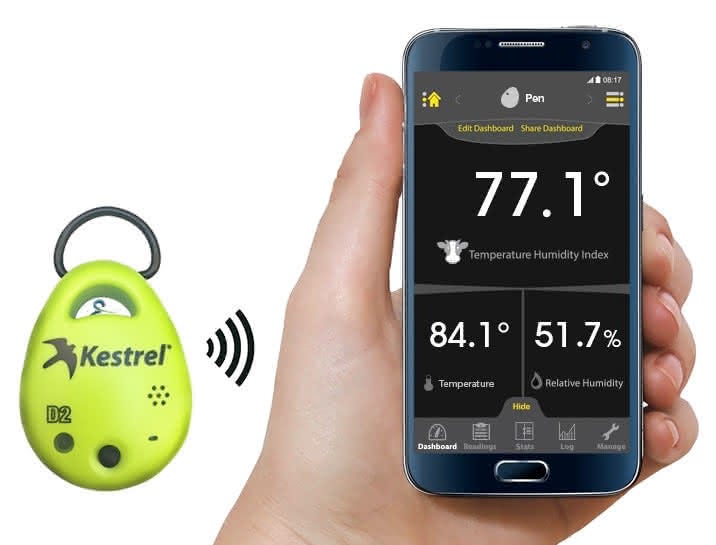 Kestrel LiNK is the free app that powers the DROP loggers. With Kestrel LiNK on your smart phone or tablet, you can view real-time readings from any DROP logger within wireless range (up to 100' or more line of sight) via Bluetooth® low energy. Each phone or tablet can connect to up to 8 DROP loggers at the same time and store data logs from many more. Min/Max/Average readings are clearly displayed and the data log is viewable as a scrolling graph with detailed data for each logged point. The Kestrel LiNK app also allows adjustment of the logging interval and other settings as well as real-time threshold alerts. Readings can be updated as frequently as every 2 seconds and logging time and date are automatically updated whenever connected to your smart device. You can also send and share real-time and logged environmental data via email, Facebook or Twitter
Requirements:
iOS 6 installed iPhone 4s, iPad 3rd Generation, iPod Touch 5th Generation and above.
Android 4.3 and higher. Works with most Android devices with Bluetooth® low energy, including Samsung Galaxy, Nexus 4, Motorola Droid and other recent generation phones and tablets.
---
American-Made Quality and a Five-Year Warranty
Every Kestrel environmental instrument is designed and built entirely in the USA. Kestrel's history and focus on quality and ruggedness is reflected in the DROP's industry-leading five-year warranty. Kestrel has been building rugged environmental instruments that help people do their jobs more safely and efficiently for more than fifteen years and has built a reputation for reliability one meter at a time.
---
Compare All Livestock and Agriculture Models
Measurements
DROP D2AG

$99

5000AG

$269

5500AG

$319

5400AG

$699

Temperature

yes

yes

yes

yes

Relative Humidity

yes

yes

yes

yes

Heat Stress Index

yes

yes

yes

yes

Temperature-Humidity Index (THI)

yes

yes

yes

yes

Dew Point Temp.

yes

yes

yes

yes

Wind Speed/Air Speed

yes

yes

yes

Wind Chill

yes

yes

yes

Wet Bulb Temp. (Psychrometric)

yes

yes

yes

Station Pressure (Absolute Pressure)

yes

yes

yes

Barometric Pressure

yes

yes

yes

Altitude

yes

yes

yes

Density Altitude

yes

yes

yes

Volume Air Flow

yes

yes

Wind Direction

yes

yes

Crosswind / Headwind / Tailwind

yes

yes

Delta T

yes

yes

Globe Temp.

yes

Naturally Aspirated Wet Bulb Temp.

yes

Wet Bulb Globe Temp. (WBGT)

yes

Heat Load Index (HLI)

yes

Accumulated Heat Load Units (AHLU)

yes
---
---
Which Kestrel DROP is right for me?
Battery - 1 x CR2032
Certificate Of Conformity (Spec Sheet)
Visit our support page for FAQ's and more.