Precision Dragon Elite Youth Shooting Team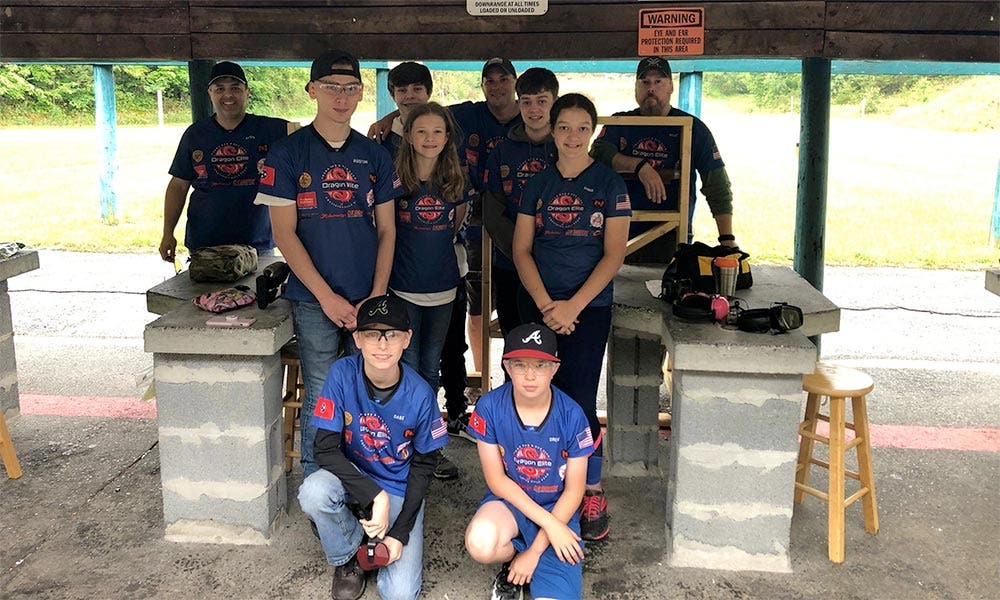 Kevin Taylor shares how the Precision Dragon Elite Youth Team in Tennessee Got its Start in PRS
Competitive Shooting can offer junior shooters the opportunity to learn new skills, take on challenging situations, build confidence, and demonstrate responsibility and teamwork. Plus, it gets them off their phones and into the great outdoors!
I shoot PRS with Andy Clevinger who is also a team coach. We have also been hunting together with our kids since they were 5 years old. We wanted a way to spend more time with our kids and get them into something we all love. The first thing that came to mind was shooting. The more I thought of other things to do besides just shooting off a bench at the local range, the more this team began to develop from idea to reality. The team really started by inviting another one of our friends, Mike Barron, who is also now a coach of the team. At that point, we had three coaches and 4 kids. We needed more kids.
Local Clubs Outreach
I started talking to the local club, Unaka Rod and Gun Club of Johnson City, TN. They are all about the kids. They already have a well-established youth trap and skeet team, so this was a no brainer. I started working overtime at this point to make it come together. I had no idea what this was supposed to look like or where to start. I did know that there were hardly ever any kids, or very few, at the matches we attended. This got my thoughts going about how I could grow and promote the team aspect into shooting, instead of only father and son or daughter. I had to get all the stuff needed to compete in NRL22 matches and recruit a few more youth.
Connecting with Companies
Next, I wanted to get jerseys made. I turned to local businesses and raised funds in exchange for their logos to go on the jerseys. I was at a local sporting goods store and met a gracious man named Todd Bailey. He works in the industry and shared a lot of advice. We immediately hit it off. He said I should take some kids to the NRA convention in Indianapolis and spread the word of what I was doing and what my mission was. When I made it to the 2019 NRA convention I had cards, and a mission statement to hand out and talk about. I went to all the booths that I felt would be a good fit for supporting youth team shooting. I was met with overwhelming enthusiasm. From that day to now the team has almost everything we need to shoot in both .22lr and centerfire matches. We still lack a sponsor for .22lr rifles. The parents all have .22lr rifles of varying brands, but none were set up for precision rifle. We are piecing together what we can to get the team going. Vortex Optics has answered the call to help the kids with overwhelming support. They gave us the tactile Diamondback scope. This was a crucial sponsorship because the kids can learn the same scope and reticle. Now, when a coach starts talking wind holds or hold overs, all the kids see the same thing. Kestrel has blessed us with two Kestrel 5700 Elite Ballistic meters, one Ruger Ballistics Weather Meter with match ammo ballistics already installed in the app for easy transfer. It was made for the Ruger Precision Rimfire. It would be great for the team to get the opportunity to also shoot that rifle. This is a game changer because now the kids can learn how to use the meters and gather their own dope. There are many more sponsors listed on our website.
Safety, Training, and Team Building
We thought about 10 kids from 10-18 years of age would be the right number and age group to train. Safety was the most important thing to think about and with PRS or NRL this number would best serve the kids as well. We train on Saturday mornings at the club as often as we can. Planned matches, bad weather or other life events are about the only reason we don't train. After shooting .22lr since January, the centerfire rifle has been getting more popular with the kids. So here I go again. I am trying to get the team centerfire rifles built to give them more opportunity to shoot and compete more often than just the monthly NRL22 matches. I am very close to getting this done minus a very important part, the action. I have some manufacturers offering us generous deals. Money, of course, is a problem for any team going into this sport. So, the team is fully supported by its sponsors and we greatly appreciate those that have stepped up for the youth and believing in our mission.
Kestrel Guest Blogger: Kevin Taylor
About Kevin Taylor
Kevin was born at Fort Bragg army base in North Carolina. He has lived in Fort Benning, GA and Fort Monmouth, NJ before settling in Murfreesboro, TN. He received his BS in wildlife and fisheries biology from Tennessee Tech in Cookeville,TN and currently works for the Farm Bureau in Washington Co, Jonesborough TN. Kevin and his wife of 18 years, Sheri share a 15-year-old son, Austin, and soon to be 13-year-old daughter, Callie. The family enjoys attending church at Grace Fellowship in Johnson City and remainging active in outdoor pursuits. The Taylors have a few beloved furry family members too; Echo the Chocolate Lab, Destiny the Toy Australian Shepherd, and a horse named Badger. Kevin has Shooting for as long as he can remember with the kids joining in hunting and shooting since they were five.
To learn more about this hardworking team of youth shooters, please visit: dragoneliteyouthprecisionrifleteam.com