Kestrel At CORE Gas Gun PRS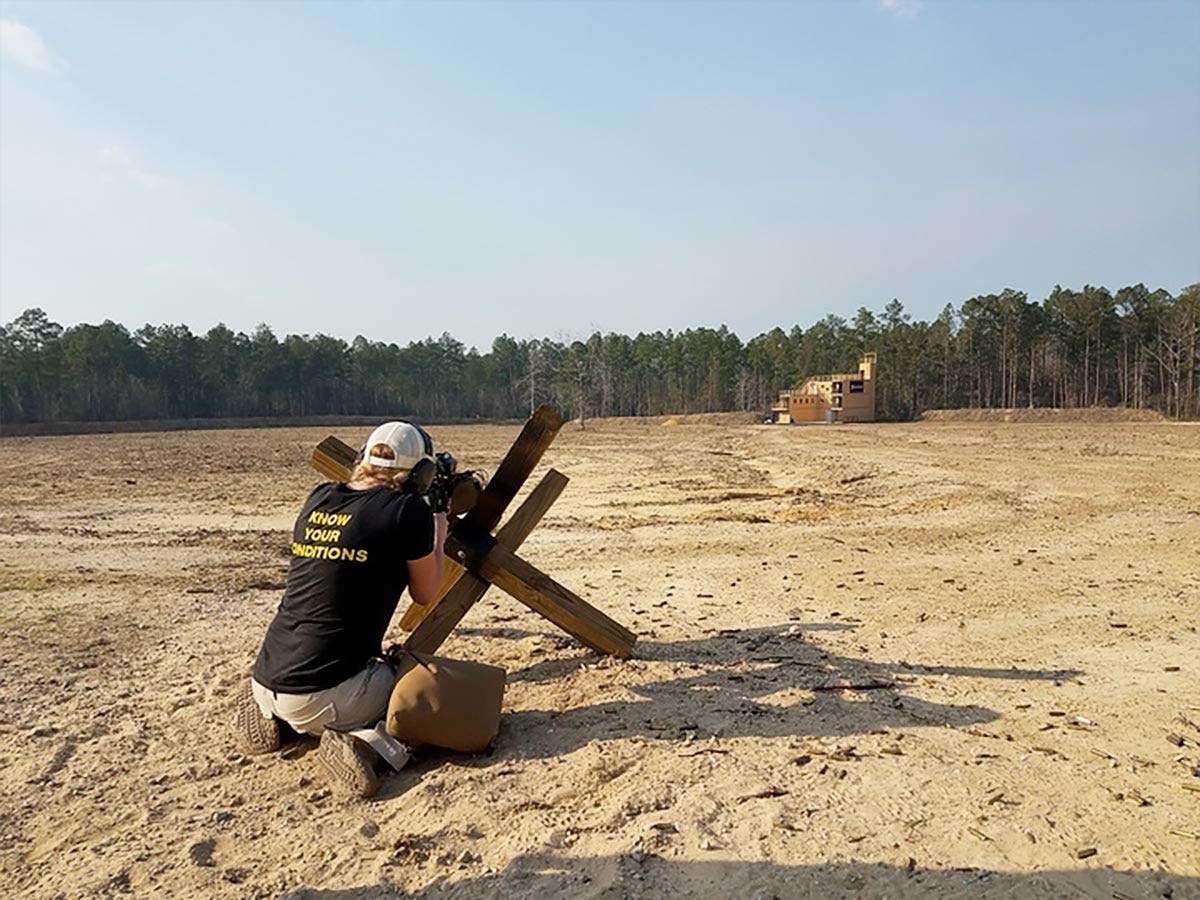 Recently, Katie Godfrey, Kestrel's Global Account Executive, participated in her first PRS match at the CORE Gas Gun Precision Rifle Series. Katie is certainly no stranger to the gun range and now it sounds like you can expect to see her more often on the PRS circuit. Check out this Q & A with Katie, for first-timer tips and to see how she placed.
How long have you been shooting long-range?
I really only started shooting any guns at all within the past 5 years. I got my very first gun, The LaRue PredatOBR .260 just last year and really became able to shoot more often since I no longer needed to share other people's guns. Of course, all of my early long range shooting happened in Canadian, Texas. Starting with Todd Hodnett was a huge boost to get me hooked on shooting. Todd clearly loves what he does and it is infectious – he gave me the bug with my very first trip!
How did you prepare for your first match?
I am very fortunate to have met some amazing people in this sport. They are all willing to help and give advice and I love it. I went to Rhett Walter's house and had Rhett, Matt Gervais and Dan LaLota all help give me advice as we trained in snow. Rhett and Matt are both competitors in the PRS series and were able to run me through scenarios that I would see at the comp. Dan is new to the series but as a Marine has plenty of knowledge to share and help and has been my shooting buddy on multiple training trips. Plus, Matt is a gunsmith and was able to do some work perfecting my guns prior to the trip.
Once I was down in Florida, I was able to spend two days at the range (in between talking Kestrel). Day one, I was lucky enough to run into some Army friends that took me under their wing and showed me some of the actual stages. Gonzo had so much patience running me through barricades! Day 2 of training, my squad mates had arrived from the north and we spent more time confirming zeros, trueing and getting on the stages. I even had some pistol training at the end of the day with Candice Horner - a great female shooter in both 3 gun and PRS and super sweet.
What guns and gear did you use?
Well, it goes without saying that my Kestrel Elite with Applied Ballistics and LiNK was a key part in me hitting any targets. The PRS platform allows you time to prep for each stage and distances were given in the match book. I could plug them in the Kestrel and then put my hold onto my Prater Precision Data Board. I had no worries that my holds would be off (it just became shooter issues then). My gun is a PredatOBR .260 by LaRue Tactical. I got one of the new 22-inch barrels which gave me about 85 more FPS on my MV compared to my 18-inch barrel. LOVE my LaRue. I have a Nightforce ATACR 5-25 with a Tremor3 reticle. The T3 allows me to hold rather than dial – and I learned quickly that speed is critical in the Gas Gun Series. I also have an Accuracy 1st level – always need to "bubble up". And an L3 MRDS which allowed me to get on targets faster. Ammo was ABM 130 gr. The ABM ammo is amazing, extremely consistent and accurate, nice tight groups. I had some borrowed "pillows", they were all Armageddon Gear – I love their stuff. For the pistol part I had my Sig P320 (named Jack). It is a 9mm and I shot standard ball ammo. I carried all my stuff around in my Mystery Ranch ruck.
What was the most challenging aspect of this match for you?
The speed of acquiring targets! Once I was on target, with my gun and set up, the shots were not super hard. But getting into position and finding the targets was a huge challenge for me. I need to get faster and just send rounds, not wait for the perfect shot. Oh yeah, and the pistol – not that great on a pistol!!
Challenges and all, I thoroughly enjoyed my first PRS experience. I ended up finishing 93rd out of 120!
Would you do another PRS match?
OMG YES!!!!!!
What do you love about long-range shooting?
It is a challenge and involves thought and precision. The gun and the ammo want to do their job and hit the target – it is the shooter that screws it up. Man or woman, big or small doesn't matter when you are behind the gun. Everything is equal and it is up to you to make the shot. I get so much satisfaction from hitting targets and pushing the limits on my rifle and on my ability. Maybe even bigger than all that is the people that I have met. What an amazing group of people and I feel very fortunate that my job has put me in a position that allows me to meet them. The people that participate in PRS are a great group. They are all quick to offer advice, loan equipment, give the belt off of their waists. They give up family time to help other shooters and come off of stages telling the other squad members things that they learned (windage, hard to see targets, etc.) even though those squad members are their direct competitors. Really, really great people.
Have any more questions for Katie? Want to learn more about how your Kestrel can help you place better at PRS? Leave a comment here or shoot us an email mdevlin@nkhome.com!