How to Easily Finetune Airflow for HVAC Systems with the Kestrel 5200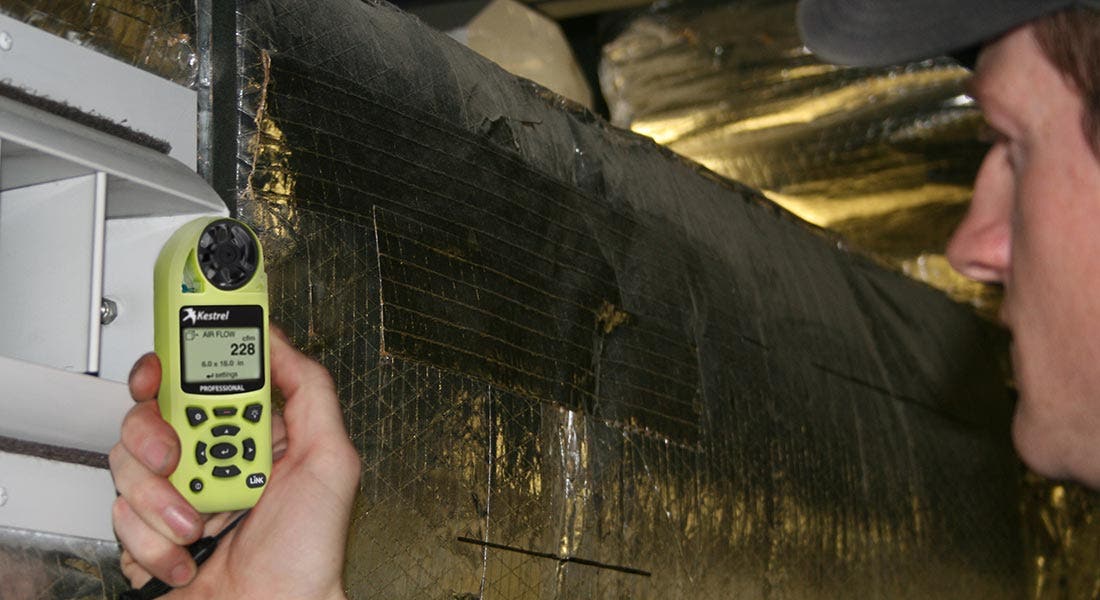 Airflow in the HVAC system is one of the most important elements of efficiency. It's critical that each air duct is able to handle the demand for airflow. With air balancing, it should be within 10% of airflow. Trouble can arise when it comes to balancing these systems, but the Kestrel 5200 can help fine-tune HVAC systems for increased efficiency.
Airflow Calculations
Calculating airflow through air ducts is a balancing act all on its own. You need to be certain that airflow is within specific ranges to get the most out of your HVAC system. You'll also need to inspect and remove anything that may make the system unbalanceable, such as defects and minor repairs.
With traditional calculations, you'll feel as if you're transported back to 1990 when we relied heavily on calculators, paper, and pencil. The process goes something like this:
Step 1: Measure air velocity and write it down.
Step 2: Measure duct dimensions and write them down (radius, or height and width of opening).
Step 3: Calculate cross-sectional area using π(r)2 for circular ducts or x(y) for rectangular ducts.
Step 4: Calculate air flow by multiplying the area by air velocity.
Luckily, there is an alternative to balancing airflow and getting your HVAC system into tip-top shape with the Kestrel 5200.
Using Kestrel for Airflow Balancing
The Kestrel 5200 is engineered to make the lives of HVAC professionals much easier. The best part is that you don't even need to be a pro---nearly any homeowner can use this device to help fine-tune airflow and get better power from their HVAC system.
First, the device eliminates the possibility of human error as long as inputted data is correct on the user's end. It measures numerous air-related elements that matter for your HVAC system, including:
Air velocity
Airflow
Air density
Relative air density
The device offers the same accuracy and reliability as all of our weather meters. It uses a complete suite of environmental measurements and a large display area for easy reading.
With the Kestrel 5200, there are just two simple steps to fine-tuning airflow:
Step 1: Measure the duct dimensions and enter them into the Kestrel.
Step 2: Hold the Kestrel to the duct opening to directly measure air flow
Accurate Airflow Balancing in Minutes
With the Kestrel 5200, you can count on accurate airflow balancing with the touch of a button. In addition to measuring air flow, velocity, and density, it provides measurements for environmental use such as wind chill, heat stress index, and more.
Choose the powerful Kestrel 5200 for HVAC, construction, indoor environmental monitoring, and more.